Schlumbergera
Description
Classification
While there are 6 defined species of Schlumbergera[1], they readily hybridize both in the wild and under cultivation. For this reason, it is more useful to classify the cultivars into groups based on their characteristics.
Truncata Group
Pointed teeth
Zygomorphic Flowers held horizontally (slightly above)
Yellow pollen
Buckleyi Group
Rounded, more symmetrical teeth
Regular flowers that hang below the horisontal
Pink pollen
Sub groups
TB - Mostly like Buckleyi, but with strong Truncata traits
BT - Mostly like Buckleyi, but with slight Truncata traits
Specimens
Currently, all plants except C show signs of overexposure to the sun, resulting in the shades of yellow and pink visible in the stem segments, rather than the deep green that is expected.
Specimen A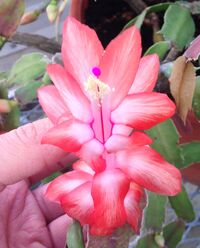 A blooms are a bright red with slight salmon hues. The pollen is a light yellow. It appears to be a member of the Truncata Group, largely due to the sharp spines.
Specimen B

Specimen C

Specimen D

Specimen E

Specimen F

Specimen G

Specimen H

Specimen I

Specimen J
References: